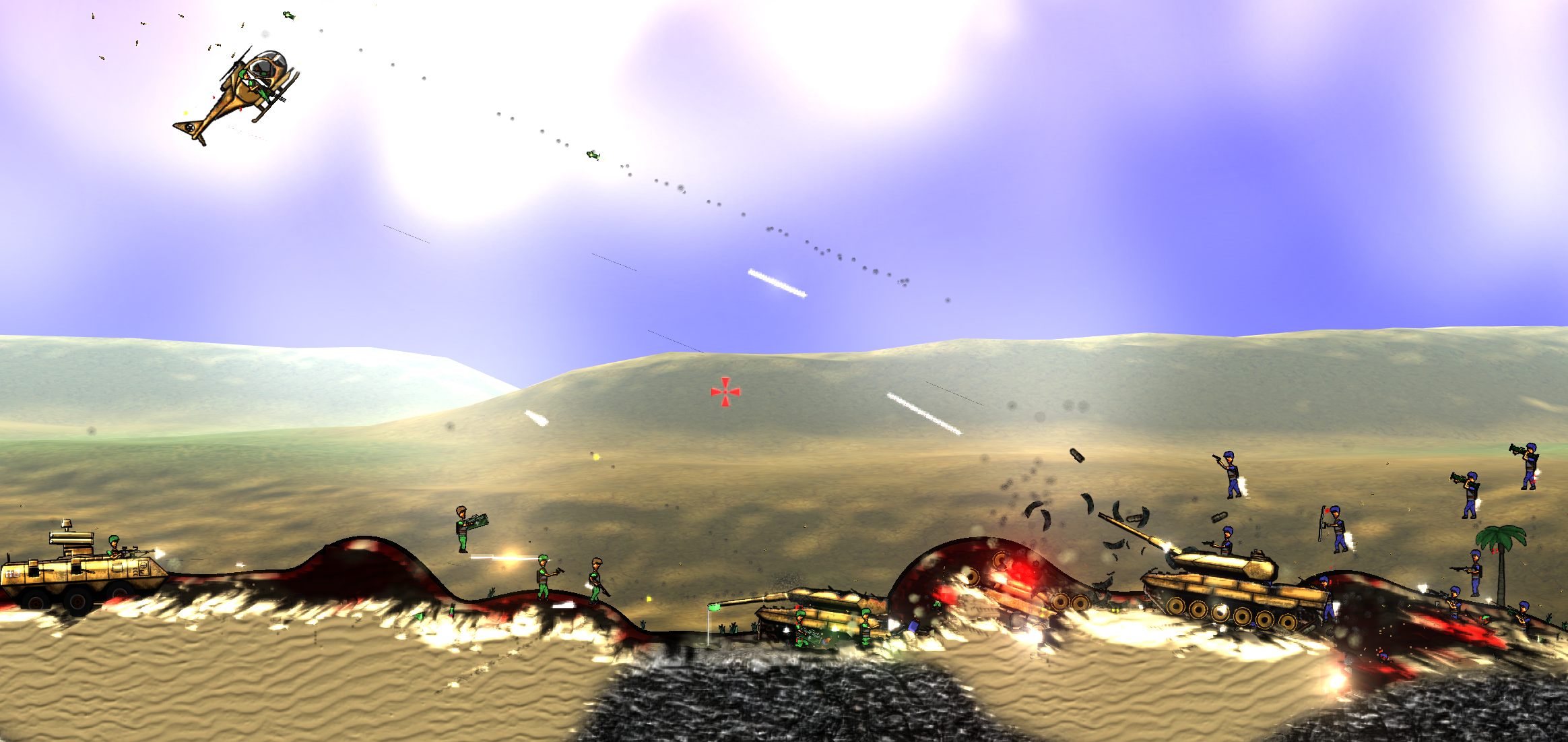 Strid
Added
Angle guide for vehicle crosshairs
The closest spawn will automatically be selected on death
Changes
2 seconds spawntime
Dying now costs the team one ticket
Smoke grenades now have gravity
Slightly faster helicopters
Faster initial speed on PVR
Replaced the black shade of vehicle crosshairs with fog outside weapon max angle
Decreased overall max zoom
Increased visual range on LMG (Alternative machine-gunner)
Decreased reload time on GRG
Slight improvements on maps DESERT and BLACK SAND
Overall faster bullets
Fixed an in-game crash
Notes
Performance is pretty bad at the moment, the CPU time is very high, and there are some graphics glitches on AMD, will fix when I have time.
Files
Strid Alpha 10.0.zip
52 MB
Jul 13, 2017
Comments
Log in with itch.io to leave a comment.
and will it be 32-bit too
32bit is currently not planned. If it's not too much work it might be added in the future.
how much will it cost the full version
and tnx for answers i rly cant wait for game too come out
yeah tank you answers and how about clans or friends there will be some like that
function
Prize of full version will be 5€ or 6$.
Thanks!
There is currently no in-game clan or friend system, though you can join a friends game on steam by clicking join game in steam friends.
one more thing game will have dlc's and oflline mode. beacus i dont now :3
There will be a free version that can play without an account, and thus cannot gain points to unlock alternative kits.
The paid version will enable login to an account that will save your score to unlock an alternative kit for each standard kit whenever enough score is gathered.
https://store.steampowered.com/app/906720/Strid__Full_Edition/

Yes you can play offline vs bots or on LAN or online.
tnx for answers i cant wait it but? it will be free?
Currently there is no official download. But will soon be available on steam and itch
hi when will be on steam?
Should be there soon, maybe a month
I am so hyped for this game, its just....wow.